Our results for giving to FRI on North Texas Giving Day 2019 are NOW IN!
[November 18 Update]: We are happy to report on the final outcomes of North Texas Giving Day for 2019. Our community raised $17,200 in initial challenge grant funds. On September 19 the friends of FRI not only met the challenge/match campaign but exceeded it! A total of $44,148.40 was raised by 140 investors. 25 donors gave for the first time to FRI. The donated amount is a 33% increase from last year. A big thanks to all our friends and supporters!
THANK YOU to the Far East Dallas community of the Ferguson Road Initiative. We are thrilled that our preliminary results show that we exceeded our goal. We'll be updating this post as soon as we have solid numbers to report. Bookmark this page and come back soon!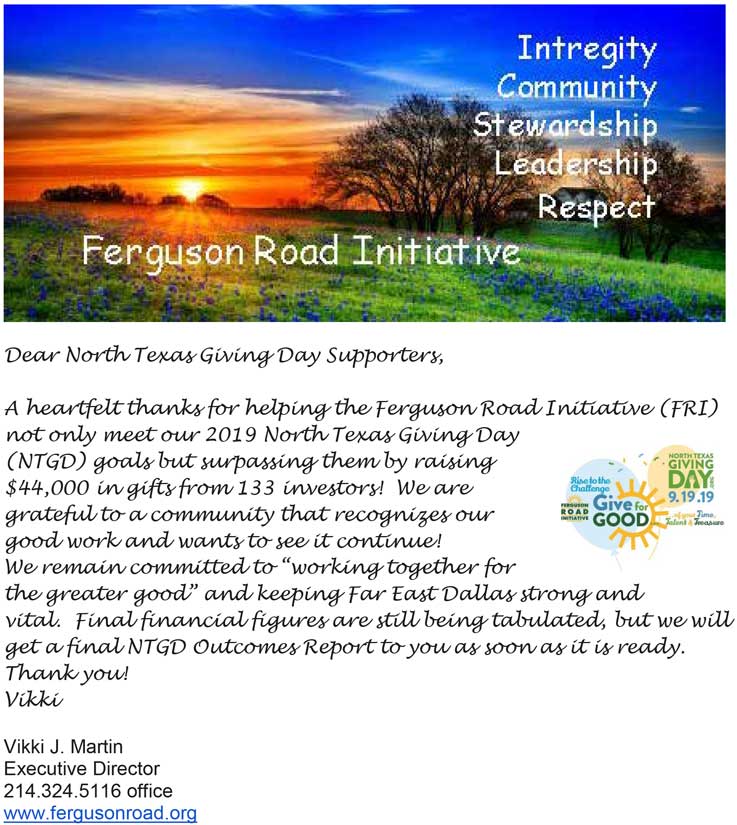 Thank you for helping make FRI's 2019 North Texas Giving Day campaign a smashing success!

FRI's Board Members Enthusiastically Endorse Our Organization