Please view Quest for a Recreation Center to learn more.
Advocating for the White Rock Hills Recreation Center
For more than 25+ years the residents of Far East Dallas have been waiting for the City of Dallas to fulfill their promise to our community and build the White Rock Hills Recreation Center (CENTER). A feasibility study was conducted and approved by the Park Board in 2015. In fact, many of you participated in these outreach meetings to gain public input as to what programs our CENTER would house. Since that time, the City has purchased (2) parcels of land for the CENTER (2131-2165 Highland Road), next to the White Rock Hills Park that opened in 2021. With the Highland Road complete street finished in 2022 (bike lanes and sidewalks), and the opening of the Trinity Forest Spine Trail (connecting to the city-wide trail system) in June, Far East Dallas is poised to become a recreation mecca that we feel will improve the lives of all people in our community and will positively impact surrounding economic development, especially at the intersection of Highland/Ferguson Roads.

The Ferguson Road Initiative is drafting a strategy to ensure the $24MM CENTER is placed on the May 2024 Bond Program. But we need YOU now!
In the weeks to come, we will need you to:
Attend a Bond Program Townhall Meeting at White Rock Hills Library with our (3) Councilmembers (Jesse Moreno-D2, Adam Bazaldua, D7, Paula Blackmon-D9) later this summer. Date to be determined.
Write letters of support to your Councilmember. To save you time, provided below is a letter in both English and Spanish. Please copy and paste the entire text (or write your own) into an email and send to all three city councilmembers at the following email addresses:
Place the White Rock Hills Recreation Center on the 2024 Dallas Bond Program
Dear Councilmembers, Bazaldua, Blackmon, and Moreno,
As a supporter of Far East Dallas, I am asking you to ensure that the White Rock Hills Recreation Center (2131-2165 Highland Road) be placed on the 2024 City Bond Program. Our community has been waiting for more than three decades for the City of Dallas to address this inequity and disparity along the lower Ferguson Road corridor. We are tired of waiting! It is time for the City of Dallas to fulfill their promise to this community and get this Center built! We are counting on our three city council representatives to use their political capital and work together to make this happen.
Thank you.
Sincerely,
Name
Address
Email
Pongan al Centro de Recreación White Rock Hills en el programa de bonos de  2024 de la ciudad de Dallas
Estimados concejales Bazaldua, Blackmon, y Moreno,
Como persona que apoya Far East Dallas, les pido que se aseguren de que el Centro Recreativo White Rock Hills (2131-2165 Highland Road) sea puesto en el programa del 2024 de bonos de la ciudad. Nuestra comunidad ha esperado por más de tres décadas a que la ciudad de Dallas corrija esta falta de equidad y disparidad del corredor de la calle Ferguson Road. ¡Estamos cansados de esperar! Ya es hora de que la ciudad de Dallas cumpla con su promesa a esta comunidad y construya el Centro. Estamos contando en que nuestros tres concejales de la ciudad usen su poder político y trabajen juntos para hacer esto realidad.
 
Gracias,
 
Sinceramente,
Nombre
Dirección
Correo Eléctronico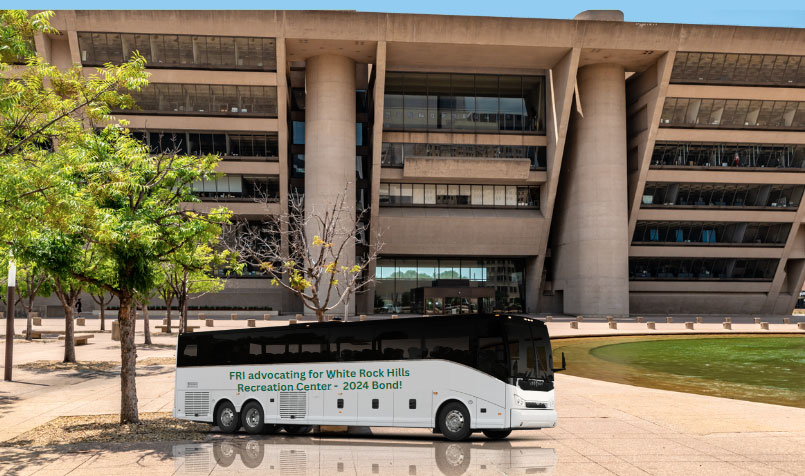 Get on the Bond Program Town Hall bus to City Hall on September 26. Time to be determined.