Who is FRI?
FRI is a grassroots organization dedicated to the complete economic revitalization of Far East Dallas; Casa Linda/Forest Hills, Greater Casa View, White Rock East and White Rock Hills. Founded in 1998 as a 501(c)3 nonprofit, our community is framed by Garland Road to I-635 to La Prada to I-30 to White Rock Creek. Our mission is "to transform Far East Dallas into a safe, beautiful, prosperous and proud community by inspiring hope and working together to achieve a shared vision."
And now, FRI has launched its ambitious Economic Development Strategy that includes the White Rock Hills Recreation Center, construction proposed for 2020 at Highland/Ferguson Roads. We are nurturing a vision of an urban village, a place of safety and beauty where people want to live and raise their families. Our vision is to create a place in our city with a unique identity and character; a place with tree-lined streets, sidewalks, and bustling small retail. We want to create a stable and healthy community that is both ethnically and economically diverse with an engaged faith community dedicated to serving not only their congregations, but the community in which they are located. We encourage our residents to support our area businesses and to "live locally" through our FRI Community Connection Program.
Why Advertise with FRI?
FRIdays is the community news magazine for FRI. Published twice a year, FRIdays is distributed to approximately 18,000 households in Far East Dallas within the 75218 and 75228 zip codes. The purpose of FRIdays is to equip more than 35+ area neighborhoods with comprehensive information that charts the progress of our community revitalization efforts. FRIdays is professionally designed in a 12-24 page publication, 10" x 8", all-color format with knockout graphics. FRI is actively engaged in selling advertising to offset the cost of producing and distributing FRIdays. As an advertiser, your business is not only supporting the unprecedented revitalization of our community, but you are also taking advantage of an excellent opportunity to market your goods and services to customers in your immediate area at reasonable rates.
BONUS: Every advertiser that places an ad in FRIdays Magazine will get a FREE 1-year Business Membership to Ferguson Road Initiative (FRI). Your advertising support ensures that we can continue to report on our community progress and good work.
Advertising Rate Sheet & Packages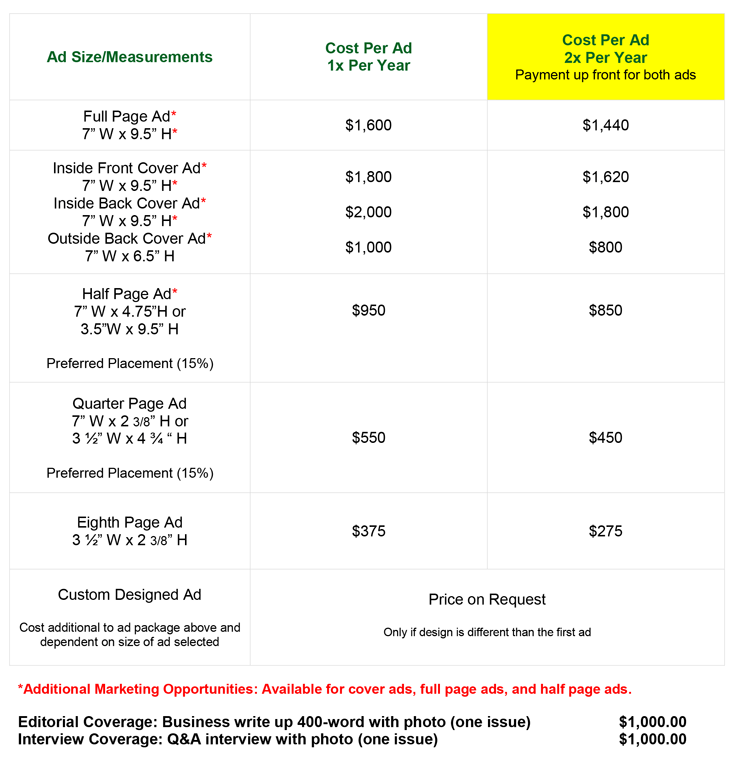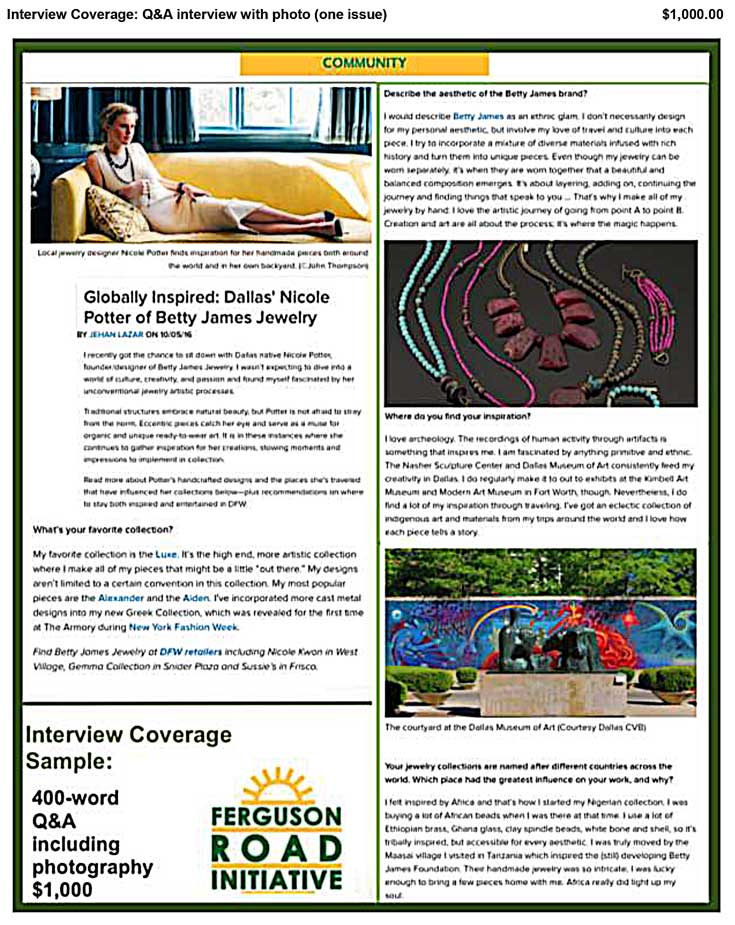 Advertisement Sizes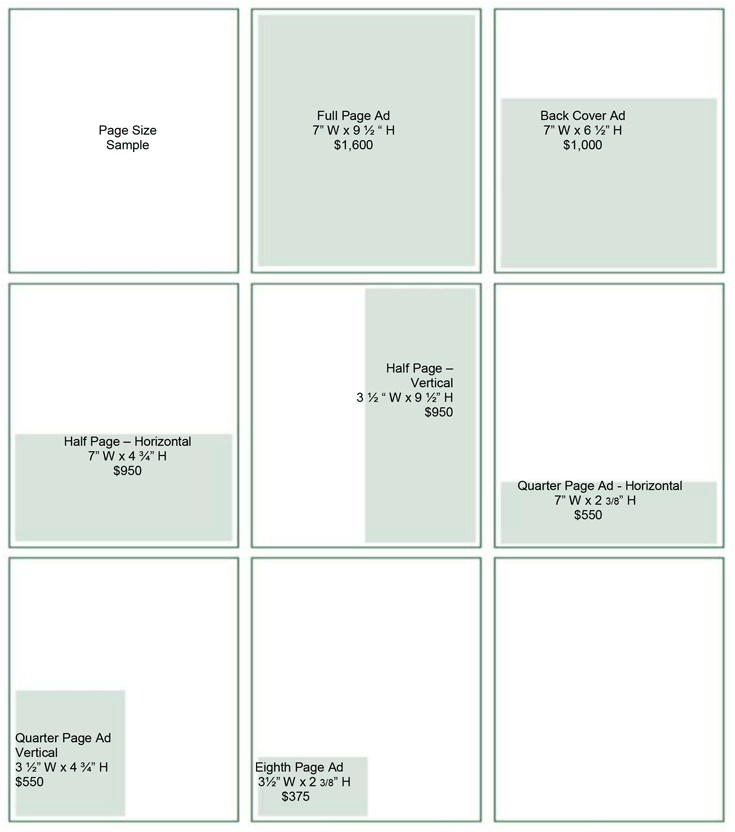 Format & Instructions
All ads must be submitted by July 21, 2017
All ads are available in black & white or color for no additional charge
All ads include an FRI Business Membership valued up to $500
All finished ad artwork is to be supplied in high-resolution print ready PDF files with no crop marks.
Prior to sending your PDF please ensure:
Size of advertisement is exact.
Text to be converted to outlines.
Files are supplied as CMYK process (no RGB or spot colors)
All images in file are CMYK 300dpi at correct size
To submit large ad files in excess of 8 MEG, e-mail the editor for instructions (see contact below)
No responsibility will be taken for problems resulting from incorrectly supplied files.
Tips & Tricks:
Publishing a coupon or discount offers for your ad is a great incentive to drive more traffic to your business or service. It's also a terrific way to measure the results of your advertising dollars.
Color ads are always more eye-catching thaN black & white ads. And, unlike other publications, we don't charge more for such a great upgrade.
We are always willing to help you to ensure you get the highest quality advertisement. If you have questions about your ad or need help designing your own ad, please don't hesitate to call Jehan Lazar at 469.777.2580 or contact our editor/designer Mari Madison directly, at marilmds@att.net
Contact Info:
To purchase an ad, please contact: Jehan Lazar at 469.777.2580 or e-mail jehan@commercial-ideas.com Please send your finished ad, mailing address, and phone number to Mari Madison at marilmds@att.net
Please Note: If your ad will not print satisfactorily due to a photo or logo with too few pixels or an ad that does not fit its space, FRI will advise you and make suggestions on how to improve your ad. It is the advertiser's responsibility to respond accordingly. If there is no response FRI will revise the ad to insure that it will print satisfactorily at an additional charge of $60.